Things to consider when designing a website for a band, artist or musician
I originally wrote this for Consonant Music in 2013 and moved it to Consonant Marketing in 2017. Much of it holds true today. So, I decided to share with everybody. Let's see how accurate I was.
When Consonant Music works with clients in an artist relations / management capacity, we use an open submission process. Our music submission form contains a field for "official website." 80% of the submissions we receive contain URLs redirected to Bandcamp, ReverbNation and even Facebook.
This is a terrible practice. Why? Let's discuss.
ReverbNation, Bandcamp, Facebook, SoundCloud, etc. are social media platforms. Although they contain some similar features, they are not true web content management systems like WordPress or Joomla. Here are three reasons why:
Customization: You can't customize them. Not very much anyway. How are you going to get your brand out to the universe, when you're using a platform that somebody else already branded?
Trends: Technology is similar to pop music. It's trendy. It doesn't make sense to put all of your eggs into somebody else's basket. Does anybody remember MySpace?
Ownership: They own their platforms and the data you upload. Their algorithms control who sees your data. On the other hand, you own your domain name and your website. More on this topic can be found here.
I'm not saying that there aren't good uses for these sites, because there are. We'll get into that in a minute. I am saying that they should not ever have your domain name directed to one of their pages. It should always point to your own website. Here are some more characteristics found in effective musician website design: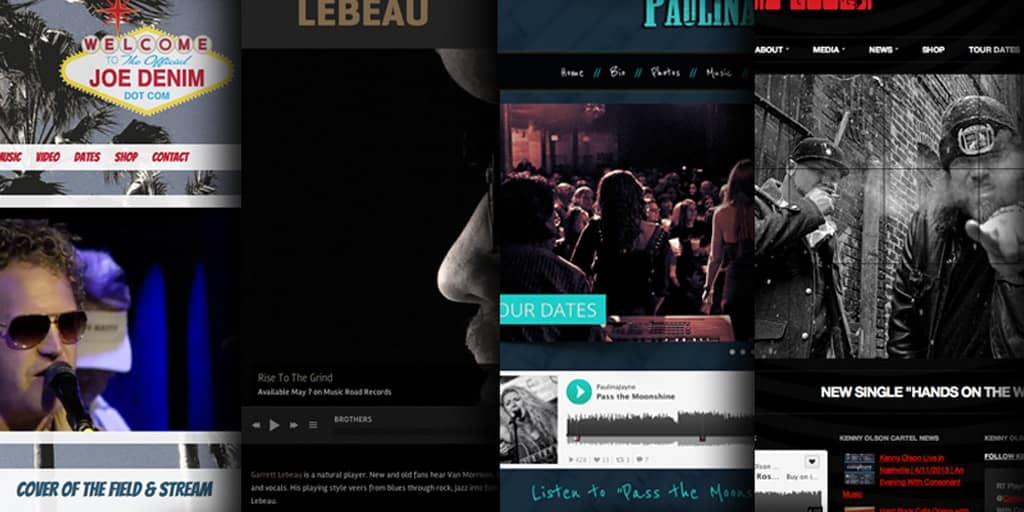 Your Website Looks Cool
This one is self-explanatory. Musicians consider themselves artists and they are particular about their craft. Why a musician would ever want to present something that doesn't equally represent the quality of their music visually is beyond me. A ReverbNation template is not unique. Your website should look as unique as your music sounds.
Your Website is Mobile-Friendly
When I originally wrote this, I said mobile browsing was taking over. In 2016, it took over. Make sure your website is either responsive or redirects to a mobile friendly version when viewed on a phone or tablet.
It's Easy to Navigate
People are impatient. Fans come to your website for specific reasons, whether to buy tickets to a show or find your latest release. Make sure they find what they're looking for fast. An extra click can drive people away. Easy navigation is key.
The Content is Fresh
Do you read The Lefsetz Letter? If not, check it out. Bob often writes about the increase in speed and the amount of information people are exposed to on a daily basis now vs the days of CDs and MTV. He knows that "the old way" is dead. Keep your information fresh to keep the audience engaged. Blog posts, press releases and album reviews make you look legit and help with SEO.
2021 UPDATE: Okay. I sincerely apologize to anyone who took me seriously when I recommended this guy. He was correct about this back then, but he's an insufferable prick now. If you've read anything he's written over the past two years, you get it. Again, I apologize. Really.
No Auto-Play
People want the choice. Give them the choice to play your music. More on that topic can be found here.
Stream At Least One Song for Free
People want the choice. Effective musician websites give visitors the choice to buying music or not. This is a great reason to use SoundCloud. It's got a great html5 widget and it's a social media outlet with links to purchase. You can't beat that. Let's say I've never heard of an artist before but I'm asked to check out their website. You can bet your ass that I'm leaving that site in 2 seconds If I can't listen to music for free. Here's an example:
Video
What is your live show like? If it looks and sounds awesome, I might travel to see you. Post video of yourself playing live. Here's a perfect reason to use YouTube. YouTube is another social network with the ability to sell music and merchandise directly from the video.
Tour Dates
Potential fans that visit your site and like your band are probably going to want to see you live. Talent buyers will not book you if they can't see what they are getting before-hand. Post your tour dates.
Effective Musician Websites Track Analytics
If you take nothing else away from this blog post, take this with you: Analytics are your best friend. They help you determine where your fans live, what content they like on your site, who is referring people to your website and ultimately help you make wise financial decisions.
What to Take Away from this Post
Indie musician websites should be designed with the fan in mind. Do your fans look forward to visiting your website? Do they want to buy merchandise from you or are they being sold? People hate to be sold but they love to buy. Every hit your website gets is a potential fan and a potential customer. Give them reasons to stick around. Give them reasons to come back. Give them reasons to tell their friends how cool you are. Get creative. Interact with the visitors. Be Smart and have fun doing so!
If you need help, hire us or hire someone like us. It doesn't matter who you hire as long as you hire a pro, it's one of the most important investments that you can make. Remember this post when you're buying your 4th or 5th guitar but only using it in your rehearsal space.
In all seriousness, marketing will make or break your career. Your image is still everything. The difference between image today and image yesterday is that image today is interactive. You can't hide your true self. If your "true self" is a bad ass musician then present yourself that way online.