Biography | Dustin Templeton
Dustin Templeton is a brand development consultant and the founder of Consonant Marketing in Nashville, Tennessee. Dustin brings two decades of sales, marketing, live event, and technological solutions experience to personal brands and small businesses seeking to differentiate themselves from the competition.
1997 - Music Tech (McNally Smith)
Dustin began pursuing a career in music at the age of 15 in his hometown in Iowa. There he started writing songs, joined a local band as a guitar player, and eventually landed a few paying gigs at area bars and nightclubs.
When it became time to choose between going to college and pursuing his musical career, Dustin chose both. In 1997, he moved to Minneapolis, Minnesota to attend Music Tech [now McNally Smith] and major in music production. While at Music Tech, he learned how to record, mix and produce music in a professional studio environment. He was also introduced to his first Macintosh and began producing electronic music.
1998 - Two Dogs Digital Audio
After college, Dustin turned down offers for work from some of the larger players in the industry, moved to Illinois to pursue his own music and electronic music label.
During that time, he worked various jobs to supplement his income. He worked as recording engineer at Two Dogs Digital Audio, a digital press operator and pre-press specialist at PII, a graphic designer, a bartender and a rave/club promoter.
When asked, Templeton replied, "back in those days, Mac OS experience was not easy for employers to find. Everyone thought Apple was dead, so other than pouring drinks, all of my work required a Mac."
2002 - Began Glen Ellyn Computers d/b/a MacSpecialist
One of Templeton's replies to a "Mac OS experience required" job posting landed him a retail sales position at Glen Ellyn Computers d/b/a MacSpecialist in Villa Park, IL. As he explains in this blog post, MacSpecialist provided him with many opportunities and experiences which played a vital role on his future career path. 
While at Glen Ellyn Computers d/b/a MacSpecialist, Dustin was promoted from Retail Sales Associate to corporate Account Manager. As Account Manager, he landed accounts such as; Brookfield Zoo, Sanford (Newell Rubbermaid), and Shedd Aquarium. His achievements as Account Manager led to a promotion to Director of Sales where he was responsible for the company's retail and b2b sales departments.
Dustin's successes at (GEC) MacSpecialist became the main driver behind his decision to shelve his career as a musician. However, he wasn't finished with the music industry.
2006 - Purchased MacSpecialist
In 2006, Templeton was presented with an opportunity to purchase MacSpecialist. He expressed interest, and began to pursue the opportunity. After the negotiation process outlined in this post, he and two of his co-workers formed a company named TKC Innovative Solutions that purchased the assets of Glen Ellyn Computers which included the MacSpecialist d/b/a name. Templeton assumed the title of Director of Sales and Marketing, Partner and assumed the role of Secretary on the corporate board of directors.
After the purchase, Dustin and his partners at TKC Innovative Solutions d/b/a MacSpecialist engaged in a complete overhaul of MacSpecialist's branding, public image, methodologies and core values. Several of the details are now outlined in a series of MacSpecialist posts on his blog. Dustin's sales and marketing efforts along with work he'd put into developing the brand led to higher gross profit margins and a nearly $1M increase in total revenue. This growth was a precursor to the company's expansion into downtown Chicago.
2008 - MacSpecialist River North
After meeting with a Lightspeed POS client in Chicago's River North neighborhood in late 2007, Templeton spotted the location that would later become MacSpecialist River North. "From the moment I saw the space, I knew it was the location that would define the MacSpecialist brand in Chicago," Templeton said when describing the property at 500 N. Wells.
After successfully pitching the idea to his partners, Dustin put together a business and marketing plan that resulted in approval for bank financing and even convinced Apple to award the company a grant that covered a large portion of the new location's buildout costs. And when he shared his plans for a grand opening event with the Sr. Director of VAR/Distribution, MacSpecialist received an additional sponsorship commitment.
Soon after MacSpecialist River North opened its doors, Templeton set his sights back on the music industry. In 2009, he launched the MIX (Music Industry Experts) division. The MIX division was developed to provide Apple consulting and support to the global concert touring industry. For more information about the service, see this feature in Mobile Production Monthly. (The full issue can be found here.)
2010 - Founded MIX Touring
In late 2010, Templeton moved to Nashville, Tennessee and founded MIX Touring, a continuation of the concert tour support service he'd created while at MacSpecialist. MIX Touring was the first ever mobile Apple consulting and support service for the live concert touring industry.
The company's service offerings featured same-day and next day delivery of new, repaired or customized equipment to arenas, stadiums, venues, hotels, homes and even tour busses, a range of backstage Apple upgrade and repair services, rehearsal Mac support, remote support, hardware customization and a VIP Mac concierge service for artists. 
MIX Touring's services were utilized by an impressive list of tours for artists such as; Roger Waters, Tim McGraw, Black Eyed Peas, Jay-Z and Kayne West, Motley Crue, Trans Siberian Orchestra and many more. 
Templeton continued the MIX service until early 2013 when he was presented with an opportunity to join the management team for an investor who was funding a few projects out of Nashville.
Regarding his decision to shut the service down, he said, "I opted to discontinue the MIX service in 2013 when I was offered a full-time position on a project with one of our clients. At the time, I was travelling a ton, performing technician tasks more often than I'd liked, and I kind of lost the love for the work. That project gave me the opportunity to travel less and do the type of work I really enjoy. So, I took the position. It was a great learning experience and it ultimately laid the groundwork for what later became Consonant Music."
2013 - Founded Consonant Music
In late 2013, Templeton launched Consonant Music, a marketing artist services company in Nashville. Consonant Music was founded to connect independent artists and labels with music industry professionals in order to bring major label quality to their projects.
"In mid-2013, as the project that convinced me to transition away from MIX Touring was nearing an end, I began to entertain the idea of starting a company that offered essential artist and label services to the independent Nashville market," Dustin wrote.
Soon after, he pitched a partnership and referral-centric business plan to some of his colleagues within the industry. The plan would allow him and his colleagues to offer a full menu of à la carte marketing, PR and artist services to investors and independent record labels. The structure benefited both the artist's side and the collective's side of every project because there were no long–term contractual agreements.
"A large portion of music industry pros work as freelancers and I viewed a marketing collective as a great way for all of us to expand our reach and connect with people who needed our skills without locking anyone into a long-term contract. My colleagues liked the idea so I wrote up a business plan containing a partner program, a referral and commission structure and a marketing plan. Shortly after, Consonant Music was born." Templeton added.
Promoting Consonant Music and Its Clients
In order to promote the launch of the company, Templeton put together a showcase at 3rd and Lindsley in Nashville called, 'An Evening with Consonant Music.' The event was well attended and well-received by Nashville industry insiders. The positive response netted a number of new clients for the company, some of which are still working with Templeton today.
Consonant Music engaged in a number of promotional ventures for clients and for itself. To promote itself, the company hosted a number of artist showcases and special events in Nashville, all of which were well-attended. The strategy behind their own events was greatly expanded when it came to servicing its clients. Turk Tresize's record releases and accompanying US and Australian tours illustrate the variety of services Consonant Music performs for its clients.
2017 - Consonant Marketing Rebrand
In 2017, Templeton renamed Consonant Music to Consonant Marketing in order to expand the company's service offerings beyond the music industry and shift focus toward small businesses.
In reference to the decision, Dustin wrote, "First and foremost, the core services wouldn't need to undergo major changes. Consonant Music began working with small businesses very early on. We were approached by several small business owners who'd seen the results we were producing for our artist clients and asked if we could do the same for their brands. When the projects were a good fit, we took them. This was really just a natural progression."
Today, Templeton and Consonant Marketing primarily focus on developing personal brands and small businesses. They offer an array of services ranging from web design, digital marketing and SEO to small business sales and IT consulting. 
2021 - Dustin Templeton (.org)
In 2021, Templeton launched Dustin Templeton (.org) in order to showcase his full talent stack and career experience. "Consonant Marketing only represents a portion of the bigger picture approach that I bring into new projects, partnerships and relationships in general. I often reference past experiences when I'm in discussions with clients. I realized I didn't have anywhere to point them in order to illustrate those experiences. So, that's why I built Dustin Templeton (.org)," he explained.
Templeton aims to keep the website alive and updated with relevant portfolio items and the occasional blog post as his career progresses.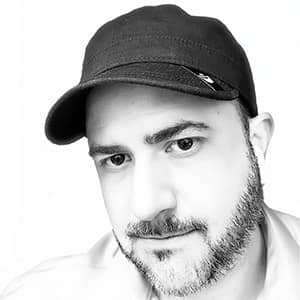 Consumer customer receipts
Client Accounts Managed and Tours Supported
U2 • Justin Bieber • Tim McGraw • Roger Waters • Dave Matthews Band • Eagles • Bon Jovi • Black Eyed Peas • Kid Rock • KISS • Jonas Brothers • Lady Gaga • Trans Siberian Orchestra • Primus • Britney Spears • Jessica Simpson
Widespread Panic • Mötley Crüe • Daughtry • Korn • Disturbed • Usher • Kenny Chesney • Jay-Z and Kanye West • One Republic • Phish • Panic! At The Disco • John Mayer • Demi Lovato • 3rd Eye Blind • Rascal Flatts • Kings of Leon
United Airlines • Brookfield Zoo • Shedd Aquarium • Rubbermaid • McDonald's • Tour Supply • Eventric • AEG • Live Nation • ATO Records • Red Light Management • ATO Pictures • Proper Productions • Azoff Management • Nocturne
Lady Antebellum • INTERPOL • Wilco • Ozzy Osbourne • Jamey Johnson • Randy Houser • Pussycat Dolls • New Kids on the Block • Backstreet Boys • Blue Man Group • Fallout Boy • Deftones • Craig Wayne Boyd • Dixie Chicks • Keith Urban